Manna for Missionaries provides sabbaticals for missionaries serving in the field. Those who serve need time to rejuvenate so they can continue serving around the world. First, a missionary can be nominated by anyone. Once nominated, an email will be sent to the missionary from a volunteer staff member of Manna for Missionaries letting them know of the nomination. The missionary application should then be filled out and emailed in to the provided email. The missionaries are then evaluated by the board of directors based on application, areas served and amount of time without a sabbatical. The board of directors will rate the missionaries and choose those with the most need. Once chosen, an email will be sent to the missionary, the logistics will be finalized and a sabbatical will be planned to suit their needs.
Manna for Missionaries supports other humanitarian organizations in any way possible. Some organizations include Good Samaritan Foundation of Haiti, Islander Evangelistic Ministries, and Bel-Air Children's Home of Grenada. Manna for Missionaries uses catamaran Manna to deliver supplies to Ile a Vache, Haiti for both Good Samaritan and IEM . We also collect donations from other sources to deliver to Haiti. Manna delivered needed supplies to Bel-Air Children's Home in Grenada in 2016 and installed the new shades they donated to the home.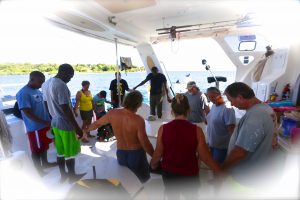 Manna for Missionaries allows others with a heart for missions, to crew on board Manna to help deliver supplies and to do any work that other organizations need help with during the journey. Manna is large enough to accommodate 8 people looking to participate in the mission journeys around the Caribbean. Any interest in crewing should be sent through contact us.