Wayne and Emily Keese have been married for 20 years and are members of Stonewater church in Granbury. Their first experience in the mission field was a river boat trip down the Amazon river in Brazil in 2008. Since that time they have had a passion for Missions. Wayne and Emily served in Eldoret, Kenya in 2013 doing medical missions and building playgrounds. Emily has served for Open Arms International located at Eldoret, Kenya on medical missions in 2011, 2012 and 2014. In 2012, Wayne and Emily took a leap of faith and purchased their catamaran. They decided on the name "Manna", because she was a gift from heaven. They sold everything and moved aboard in 2013. Manna for Missionaries which is a Texas based non-profit organization 501 (c) (3) was formed in 2014. Wayne and Emily were led to do mission work on their catamaran "Manna". In the last two years during the off season of chartering, they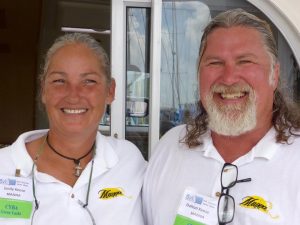 have sailed over 20,000 nautical miles abroad delivering supplies for humanitarian efforts in areas like Haiti along with providing aid for full time missionaries in the field around the world.
Mission Statement:
It is the mission and purpose of Manna for Missionaries to provide an outreach ministry for missionaries.
Manna for Missionaries has a strong desire to give missionaries a needed sabbatical so they can
rejuvenate and continue their work around the world. It is our mission to counsel and educate missionaries in need by sharing our beliefs and Faith in God and our strong conviction toward missionary work. Manna for Missionaries also supports and volunteers for other Humanitarian and mission
foundations in any way necessary.